Vegan — Multi Complete (Extra B12, Vitamin D and Iron) — by Laveen
For vegans

 

, vegetarians or people who eat little meat

21 vitamins and minerals

High

 

dose vitamin B12

With spirulina extract

100% natural and vegan certified
Vega Multi Complete has been specially developed for vegans, vegetarians or people who eat little meat. This multivitamin contains 21 natural vitamins, minerals and spirulina extract. Spirulina is one of the oldest algae species in existence and is cultivated in areas where the sun shines more than 320 days a year. Spirulina is a source of vegetable protein.
The formula contains a high dose of vitamin B12 of natural origin. It is a water-soluble vitamin that can be found naturally in animal products such as milk, dairy products, meat, fish and eggs. It is difficult for vegetarians and vegans to come by. Vitamin B12 promotes energy metabolism, helps with fatigue, supports the immune system and plays an important role in the functioning of nerves.
Buffered Vit C – Sodium Ascorbate is non-bitter, non-acidic, buffered Vitamin C. Buffered Vitamin C has lost its acidic form by coupling (buffering) to sodium. Vitamin C helps the immune system and fatigue, is important for blood vessels, supports the formation of collagen in the bones, helps to care for the skin from the inside out
The formula helps with:
1) Fatigue*
vitamins B2, B3, B5, B6, B12, C, folate, iron and magnesium help to reduce fatigue
2) Immune system**
vitamins A, B6, B12, folate, vitamins C, D, iron, selenium and zinc help the immune system
3) Energy level***
vitamins B1, B2, B3, B5, B6, B12, biotin, vitamin C, iodine, iron and manganese support energy levels
4) Hair, skin and nails
– Biotin, selenium and zinc are good for your hair
– Vitamin A, B2, B3, C, biotin, iodine and zinc nourish the skin and help to care for the skin from the inside
– Selenium and zinc are good for the nails
Ships from the Netherlands within 24 hours and estimated delivery time between 2-5 business days depending on your location.
Can I open the capsule?
Yes, you can open the capsule to take out the contents and, for example, mix it with a yogurt or smoothie. Dissolving in water or juice is not recommended.
How much is in a pack?
Contents: 60 soft gels (enough for 60 days)
What are the ingredients?
Spirulina, Vit C, Magnesium, B3, Iron, Vit E, Zinc, Vit B5, Manganese, B6, B2, B1, Vit A, B12, B11, Iodine, Biotin, Chromium, K2, Selenium, Molybdenum, D3, Shell: vegan cellulose
Ingredients per capsule

Content

RI (%)*

Vitamin C (Sodium L Ascorbate)

40mg

50

Magnesium (citrate)

28mg

 

Vitamin E (D-alpha tocopherol succinate)

6mg

50

Vitamin B3 (Niacinamide)

8mg

50

Vitamin B5 (D-calcium pantothenate)

3mg

50

Vitamin B6 (Pyridoxal 5-phosphate)

0.7mg

50

Vitamin B2 (Riboflavin)

0.7mg

50

Vitamin B1 (Thiamin HCI)

0.55mg

50

Zinc (Citrate)

5mg

50

Iron (Fumarate)

7mg

50

beta-carotene

200µg

 

Manganese (Gluconate)

1mg

50

Vitamin B11 – Folate 5MTHF)

100µg

50

Biotin

25µg

50

Vitamin B12 (Methylcobalamin)

125µg

5000

Iodine (Potassium iodide)

75µg

50

Selenium (L-selenomethionine)

13.75µg

25

Vitamin K2 (MenaQ7- Menaquinone-7)

18.75µg

25

Chromium (Picolinate)

20µg

50

Molybdenum (Sodium Molybdate)

12.5µg

25

Vitamin D3 (Cholecalciferol) Vegan Vitashine

10µg

200

Spirulina

 
 

* (1169/2011)
 Does this product contain allergens?
No, this product is soy, gluten, lactose and nut free.
What is the best way to store this supplement?
Store unopened or opened in a dark place.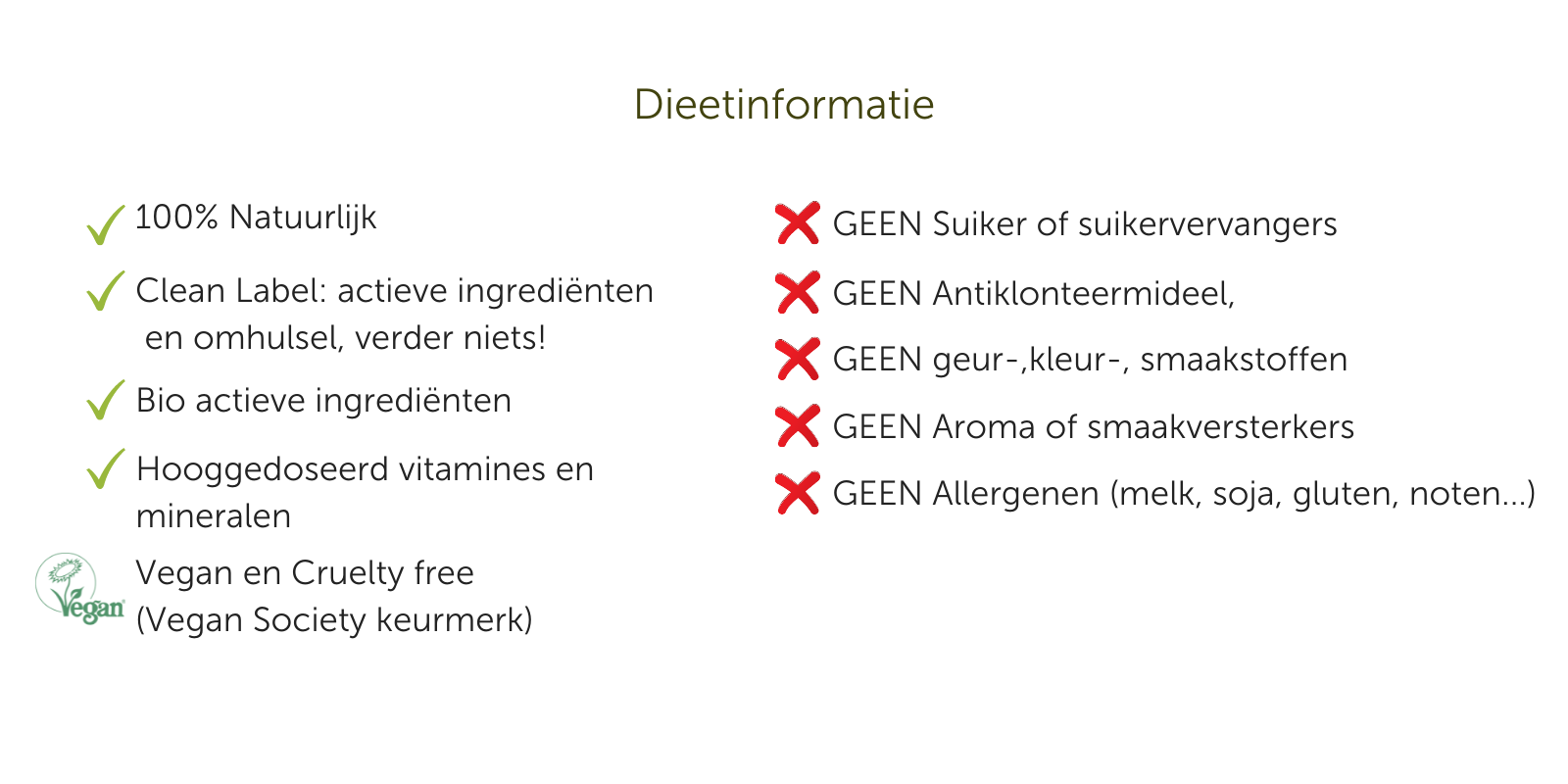 Vegan — Multi Complete (Extra B12, Vitamin D and Iron) — by Laveen has out of 3 sustainability stars. Like all products on BOAS, this product is climate positive and it has at least one independent sustainability label. Read more about the ratings on our sustainability criteria page.