Refills for the Vega Mama Multi

Good for the wallet and the environment

Recommended for women with a desire to have children, during pregnancy and breastfeeding

28 natural vitamins, minerals and herbs

With folate (active folic acid)
Good for the environment

Good for the wallet
*This refill package is made of paper and can be recycled with old paper.

 

This allows you to endlessly reuse your glass jars. 
---
Mama Multi has been specially developed for women who want to become pregnant, who are pregnant and who are breastfeeding. For this multivitamin we use folate (the bioactive form of folic acid). This multivitamin contains 28 natural vitamins, minerals and herbs, and no other additives. So no fillers, no preservatives, no anti-caking agents… Read the label for yourself: vitamins, minerals, herbs and vegan cellulose, nothing else!
Active Folic Acid – also called Folate – Folate contributes to the resistance to stress, has a beneficial effect on the reduction of tiredness and fatigue, and contributes to the growth of the fetus / unborn child / child during pregnancy
Beta- carotene – can be converted by the body into vitamin A as needed. Vitamin A has a positive influence on the immune system and helps to care for the skin from the inside out
Iodine – is important to support the growth of children. Biotin is good for your hair and keeps your hair strong
Vitamin D3 – has a positive influence on the immune system. Vitamin D3 derived from lichen.
Vitamin B complex (B2, B3, B5, B6, B8 and B12) – has a beneficial effect on normal energy-yielding metabolism
Ships from the Netherlands within 24 hours and estimated delivery time between 2-5 business days depending on your location.
Can I open the capsule?
Yes, you can open the capsule to take out the contents and, for example, mix it with a yogurt or smoothie. Dissolving in water or juice is not recommended.
How much is in a pack?
Content: 30 vegan capsules (enough for 30 days)
What are the ingredients?
Ingredients: Vitamin A, C, E, B3, B5, B6, B1, B2, B11, B12, C, D3 (from lichen), K2, folate, choline, inositol, biotin, zinc, iron, manganese, copper, iodine , selenium, chromium, molydenum, magnesium, PABA, lutein, R-Alpha Lipoic Acid, citrus Bioflavoids, vegan cellulose and nothing else!
Ingredients (per capsule

Content

RDA (%)*

Vitamin C (Calcium L-Ascorbate)

80mg

100

Vitamin E (D-alpha tocopherol succinate)

24mg

200

Vitamin B3 (Niacinamide)

12mg

77

Choline (bitartrate)

40mg

 

Inositol

12.5mg

 

Vitamin B5 (D-calcium pantothenate)

7.5mg

125

PABA (Para-aminobenzoic acid)

7.5mg

 

Vitamin B6 (Pyridoxal-5-phosphate)

1.5mg

100

Vitamin B2 (Riboflavin)

2.1mg

150

Vitamin B1 (Thiamin HCI)

2.45mg

225

ZinK (Citrate)

5mg

50

Iron (Ferrous fumarate)

13mg

95

Citrus Bioflavonoids (60% Hesperidin)

2.5mg

 

1.5mg

 

Manganese (Citrate)

0.5mg

25

Copper (Gluconate)

250µg

25

Vitamin B11 – Folate (5-MTHF)

400µg

200

Biotin

50µg

100

Vitamin B12 (Methylcobalamin)

100µg

 

Iodine (Potassium iodide)

75 µg

50

Selenium (L-selenomethionine)

25µg

45

Vitamin K2 (Menaquinone)

22.5µg

30

Chromium (Picolinate)

15µg

35

Molybdenum (Sodium Molybdate)

12.5µg

25

Vitamin D3 (Cholecalciferol) Vegan

10µg

200

lutein

5mg

 

15mg

 

Magnesium (citrate)

52.5mg

14

* (1169/2011)
Does this product contain ellergens?
No, this product is soy, gluten, lactose and nut free.
What is the best way to store this supplement?
Store unopened or opened in a dark place.
Health Council advice for pregnant women
| | |
| --- | --- |
| Folate/ Folic Acid | 400mcg |
| Vitamin D | 10mcg |
Advice Health Council on Vitamin D
This product contains enough vitamin D to follow the advice of the Health Council with regard to the RDA or the 'Recommended Daily Allowance' of vitamins D*.
| | |
| --- | --- |
| Child (0-4 years) | 10mcg |
| Women (4- 70 years) | *10mcg |
| Men (4-70 years) | *10mcg |
| 70 years or older | 20mcg |
  *Some groups need more vitamin D than they can get from sunlight and food.

 

The main groups for vitamin D are young children, children, adolescents and adults with dark skin or insufficient sunlight exposure and the elderly over 70 years of age.
¹ https://www.vitamine-info.nl/alle-vitamines-en-mineralen-op-een-rij/betacaroteen/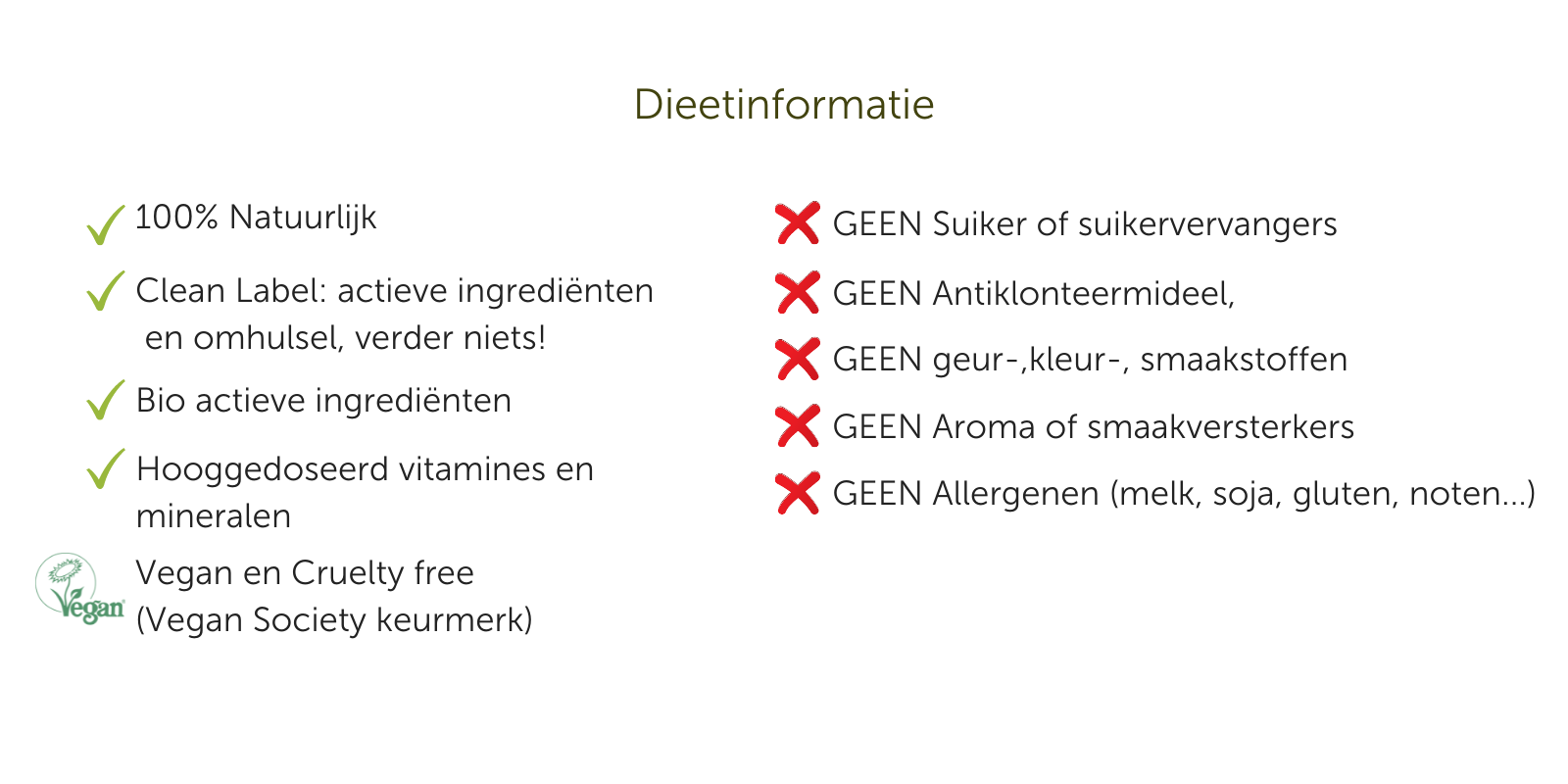 Vegan — Mama Multi — Refill Package — by Laveen has out of 3 sustainability stars. Like all products on BOAS, this product is climate positive and it has at least one independent sustainability label. Read more about the ratings on our sustainability criteria page.