With vitamins D3 and K2
100% RDA
100% natural | 0% sugar
Also for vegans and vegetarians
5 drops a day, one bottle is enough for 3 months
Organic olive oil and vitamins
Olive Drops are pure vitamin drops that you can give to yourself and your family. The Olive Drops have a neutral taste. They can be easily administered with a spoon or mixed with milk or other drinks. In addition, our vitamin D drops are made without additives.
In 2019, 28 brands were tested by the Consumers' Association and Laveen was named 'one of the two best multivitamins that contain the right dose of vitamins for your toddler'
What's in our Olive Drops Multivitamin?
•

 
Vitamin A
 

contributes to the normal functioning of the immune system
•

 
Vitamin D
 

contributes to normal growth and development of children's bones.

 

This vitamin contributes to the normal functioning of the immune system.
•

 
Vitamin E
 

helps protect cells from oxidative damage from air pollution and contributes as an antioxidant
• Vitamin K2 is important for blood clotting, but also for bone metabolism. Vitamin K2, helps with the absorption of minerals/calcium in the bones/bone tissue
Ships from the Netherlands within 24 hours and estimated delivery time between 2-5 business days depending on your location.
How do you use it?
Recommended use: 5 drops per day. Can be mixed through bottle, yogurt, milk or porridge or directly from a spoon.
How much is in a pack?
Content: 30ml (enough for 3 months)
What are the ingredients?
Ingredients: organic extra virgin olive oil, vitamin D3 (derived from lichen), A, E, and K2, nothing else!
| | | |
| --- | --- | --- |
| Ingredients per 5 drops | Content | RI (%)* |
| Vit D3 (Cholecalciferol) | 10mcg | 200 |
| Vitamin K2 (Menaquinone-7) | 35mcg | 46.6 |
| Vit A (Retinyl Palmitate) | 300mcg | 37.5 |
| Vit E (D-Alpha-Tocopherol) | 3mg | 25 |
Does this product contain allergens?
No, this product is soy, gluten, lactose and nut free.
What is the best way to store this supplement?
Store unopened or opened in a dark place.
Good to know : if the drops are kept colder than room temperature, they can look cloudy. This is a natural product without additives and the olive oil solidifies at a lower temperature. This is normal and does not affect the quality.
Health Council advice- Vitamin D
These vitamin D drops contain enough vitamins to follow the advice of the Health Council with regard to the RDA or the 'Recommended Daily Allowance' of vitamins D*.

Child (0-4 years): 10mcg
Women (50-69 years): 10mcg
70 years or older: 20mcg
Some groups need extra vitamin D than they can get from sunlight and food. The groups for vitamin D (10mcg) are young children up to 4 years of age, children, adolescents and adults with dark skin or with insufficient sunlight exposure.
05-2023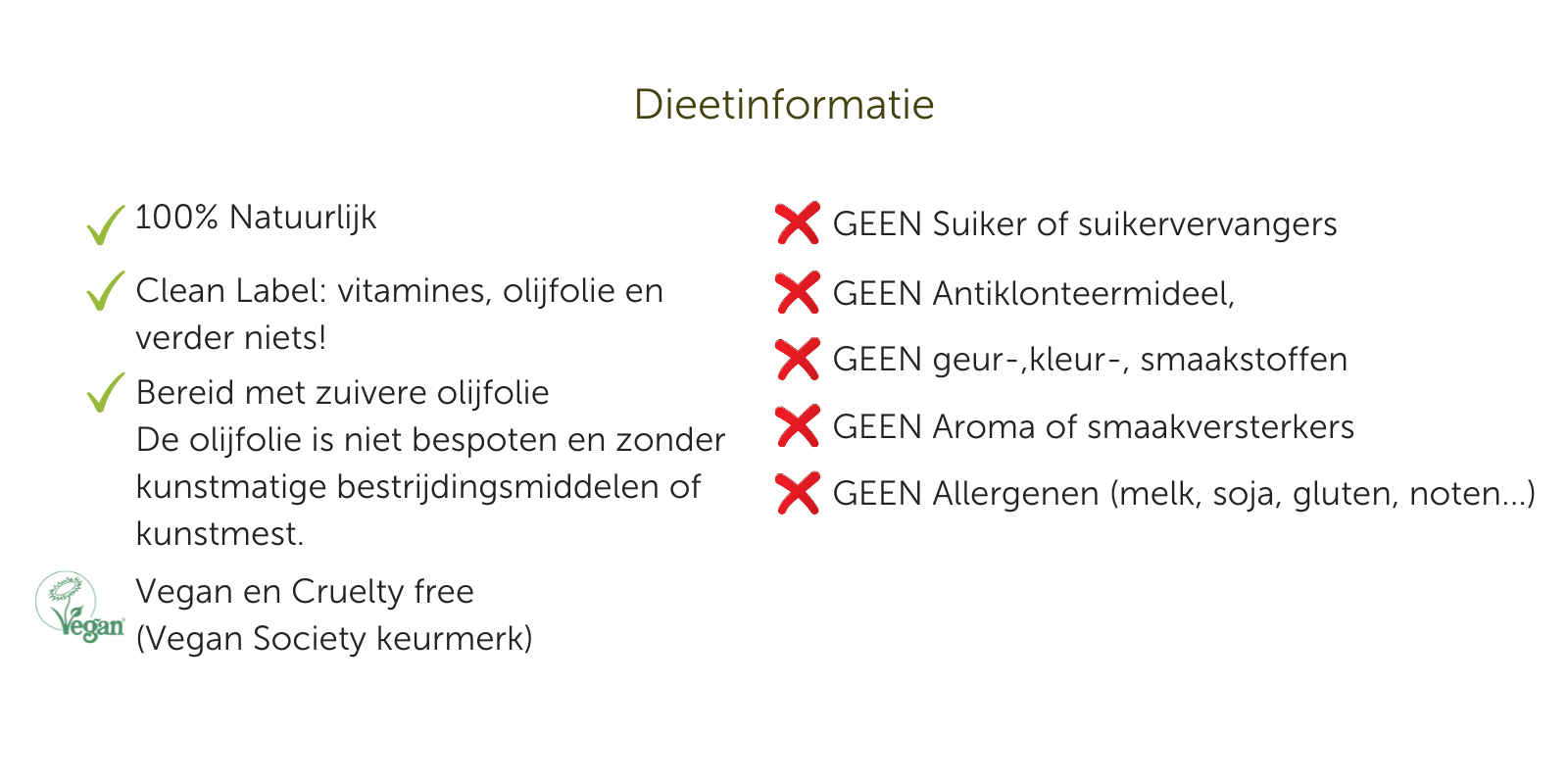 Olive Drops — Multivitamin (Vitamin D3 K2) — by Laveen has out of 3 sustainability stars. Like all products on BOAS, this product is climate positive and it has at least one independent sustainability label. Read more about the ratings on our sustainability criteria page.