The Python belt from Ecowings is a large, sturdy belt made of a truck inner tube. The belt is very flexible and indestructibly strong. It comes in 3 sizes, so it also fits a big belly!
Each belt has its own texture and is unique. There are patches here and there that give the belt a rough and tough character.
The belt has a large silver-colored buckle. The back of the belt is black.
The width of the belt is 4 cm.
The belt is available in 3 lengths:
M = 85 cm
L = 105 cm
XL = 120 cm
The length is measured from the beginning of the buckle to the 3rd hole.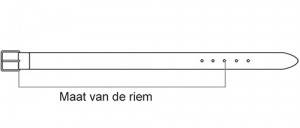 *Ships from The Netherlands within 24 hours.
Belt — Python — Black — by Ecowings has out of 3 sustainability stars. Like all products on BOAS, this product is climate positive and it has at least one independent sustainability label. Read more about the ratings on our sustainability criteria page.